The Aging Face by Decade
Nearly every woman recalls vividly the first time she looked in a mirror and noticed a line at the corner of her mouth or near her eyes.
No matter how self-assured or determined she was not to allow the external signs of beauty to control her life, she very likely felt a pang at the sight of that first wrinkle.  Men often have the same reaction when they realize that their hairline is slowly receding or bags are developing under their eyes.
While the aging process itself cannot be changed, facial aesthetic treatments can reverse some of its effects.  The following charts delineate the signs of aging decade by decade and suggest appropriate corrective actions.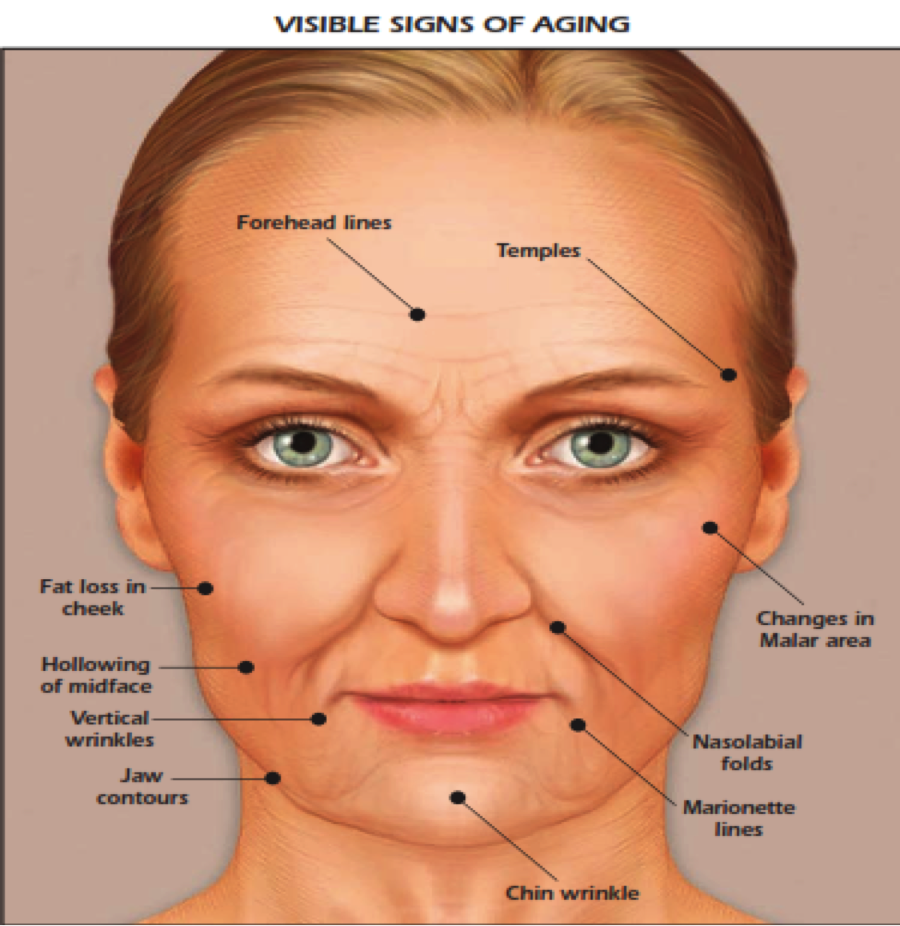 Age 30's:
| | | |
| --- | --- | --- |
| | Aging Signs | How To Correct |
|  EYES | Upper eyelids gradually become hooded.  Pouching of lower eyelids become more prominent.  Fine wrinkling begins. | Optimize skincare products and sunscreen.  Consider skin tightening or resurfacing.  Light Botox for early wrinkles. |
|  FOREHEAD | Trace of frown lines in lower forehead and between eyes | Consider light Botox  to prevent deepening.  Consider full face light chemical peel, micro-needling or light laser/radiofrequency treatment for all over collagen building. |
|  MOUTH & LIPS | Fine wrinkling at outer corners. | Consider a light filler such as Juvederm or Belotero to support corners. |
|  NOSE | Tip has not yet begun to droop with age, but shape of nose may suggest surgery. | Consider nasal surgery or contouring with Juvederm. |
Age 40's:
| | | |
| --- | --- | --- |
| | Aging Signs | How To Correct |
|  EYES | Upper and lower eyelids begin to sag, creating deep-set look; crow's feet develop. | Optimize skin care products and sunscreen.  Consider skin tightening or resurfacing procedures.  Filler for hollow under eye area.  Eyelid surgery. |
|  FOREHEAD | Frown lines deepen, horizontal wrinkles develop. | Consider Botox in both forehead and frown lines to prevent deepening.  Full face resurfacing or micro-needling to reverse sun damage and build collagen. |
|  JAWLINE, MOUTH & LIPS | Vertical lines begin to appear and deepen around lips; wrinkling becomes more prominent. | Fillers like Juvederm or Belotero for corner droop, support the parentheses around mouth, fill upper lip lines, hydrate the lips.  Full face skin tightening or resurfacing to tighten skin overall. |
Age 50's:
| | | |
| --- | --- | --- |
| | Aging Signs | How To Correct |
| CHEEKS | Fluid may accumulate in upper cheek area, causing pouches to form.  Sagging of cheek down and in. | Optimize skincare products and sunscreen. Belotero around the eyes.  Revolumize cheeks up and out with fillers.  Resurfacing for wrinkles.  Mid facelift; eyelid surgery. |
|  FOREHEAD | Horizontal lines now established; forehead sags. | Botox for horizontal line, fractionated resurfacing for wrinkles.  Avoid forehead 'lifts'. |
|  MOUTH & LIPS | Vertical lines begin to appear and deepen around lips; wrinkling becomes more prominent. | Fillers like Juvederm or Belotero for corner droop, support the parentheses around mouth, fill upper lip lines, hydrate the lips.  Full face skin tightening or resurfacing to tighten skin overall. |
|  EYES & EYEBROWS | Eyebrows sag, causing eyelids to appear hooded and heavy. | Botox to lift eyebrows, forehead Radiofrequency tightening to lift forehead.  Restylane for hollow areas.  Eyelid surgery. |
|  JAWLINE | Jawline sags, creating the impression of jowls. | Revolumize cheek with Voluma upward and out to reposition skin.  Liposuction if fat pad.  Consider lower facelift. |
Age 60's:
| | | |
| --- | --- | --- |
| | Aging Signs | How To Correct |
| FACE | Face looses elasticity; skin sags. | Optimize skincare products and sunscreen. Belotero around the eyes.  Revolumize cheeks up and out with fillers.  Resurfacing for wrinkles.  Mid facelift; eyelid surgery. |
|  FOREHEAD | Forehead lines deepen; temples hollow. | Consider Botox in both forehead and frown lines to prevent deepening.  Full face fractionated resurfacing for wrinkles to reverse sun damage and build collagen.  Plus possible forehead lift. |
|  MOUTH & LIPS | Vertical wrinkling appears around lips. | Fillers like Belotero / Juvederm to treat corner droop, support the parentheses around mouth, fill upper lip lines and hydrate the lips.  Fractionated resurfacing to treat wrinkles and for lines on upper lip. |
|  EYES | Eyebrows sag further; hooded appearance becomes more pronounced. | Botox to lift eyebrows, forehead radio-frequency tightening to lift forehead.  Juvederm or Belotero for hollow areas.  Eyelid surgery.  Can get almost surgery results with 3 fractionated radio frequency resurfacing treatments. |
|  NOSE | Tip droops. | Nasal surgery – rhinoplasty. |
|  NECK | Neck skin droops in fold; cords develop creating a turkey-gobbler look. | Fractionated resurfacing or micro-needling to tighten and improve crepiness.  Platysmal bands repositioned with surgery.  Lower facelift and neck lift. |
http://www.skintour.com/particular-interests/the-aging-face-by-decade